Note: In our Vintage History blog feature, a Community Forklift pricing team member will tell us about something in the reuse warehouse, with particular attention paid to its style, history, and function.
This gorgeous Mid Century desk sold in the reuse warehouse before we got a chance to list it on our Marketplace or on social media, but we still wanted to share a little of the history and design behind it! A quintessential Mid Century piece by iconic designer Paul McCobb, this desk is a shining example of Mid Century design at its finest. It displays many of the attributes we've come to associate with the Atomic Modern style that influences minimalist furniture design to this day.
Paul McCobb was a prolific American designer who was best known for his modern furniture designs. He worked with some of the biggest furniture makers during his lifetime and this desk is from the Planner line that was manufactured by Winchendon Furniture Company. This line of furniture was one of the best-selling furniture lines of the 1950s and was produced from 1949 until 1964.
In modern furniture during this time period, form followed function. The simple design of this desk features clean lines and geometric shapes with little ornamentation. Beautiful tapered legs sit under the center of the drawers and also support the desktop on the opposite side.
Home design of the middle of the 20th century often featured large windows that integrated rooms with the outdoors and brought nature into home interiors. Furniture finishes followed suite with natural wood grains and muted tones. This particular desk has a blond maple finish that appears to be original.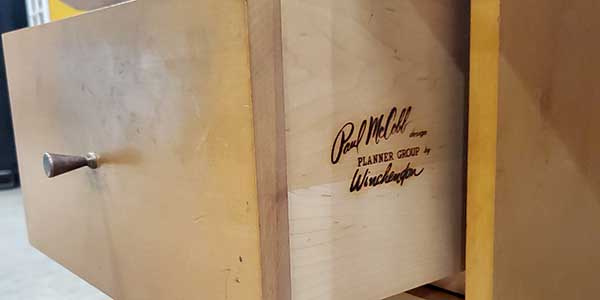 One of the standout design features of this desk are the original knobs designed by McCobb. Sometimes wonderfully called a McCobb knob, this conic style hardware became iconic in Mid Century Atomic Modern furniture design. Sleek and simple, it performs the duties of a furniture knob without overwhelming the design of the desk.
While this particular desk has already sold, you can visit the reuse warehouse to see all of the desks and other furniture currently available. We're open every day (except Thanksgiving, Christmas, and New Years Day) from 12 to 5 pm. If you don't find exactly what you're looking for, stuff comes and goes every day so check back often!
---
RELATED POSTS
September 2021: Vintage History: Carved China Cabinet & Sideboard
March 2021: Vintage History: A Beautiful Arts and Crafts Sideboard
---
***
Every time you donate or shop at Community Forklift, you're helping us lift up local communities through reuse. We turn the construction waste stream into a resource stream for communities in the DC region – by keeping perfectly good items out of the landfill, preserving historical materials, providing low-cost building supplies, and creating local green jobs.