RETURN POLICY
All sales are final, so please inspect items carefully before you check out! Our Reuse Associates will be happy to open sealed boxes or paint cans for you so that you may look at the item before you purchase it.
The only exception to this rule is for appliances, radiators, ceiling fans, and designated machines, which come with a 21-day return policy. You may return one of these items for any reason, but to receive your refund, you must bring your receipt AND the item back to the store within 21 calendar days after date of purchase. All cash refunds over $200.00 will be issued to the customer via check within 3-5 business days.
LOADING MATERIALS
You must load your own purchases. Unfortunately, Community Forklift staffers and volunteers are not able to help load items into your vehicle at this time.
However, after you have purchased your item(s), we do offer 5 days of free storage for many large items. This will give you time to round up friends or hire folks to help you move, to borrow or rent a truck, etc.
The only large items we are not able to store for a week are lumber and masonry. You must remove lumber from our warehouse at the time of purchase. Masonry (bricks, pavers, etc.) can only be stored for 24 hours. So, please bring an appropriate vehicle and enough hands to help you load and transport your purchases safely home.
You may NOT use circular saws, sawzalls, or other power tools on our property or in the parking area across the street.
If you would like to purchase lumber that is too long to fit into your vehicle, please inquire at the desk. Depending on our staffing levels that day, we may be able to provide simple, rough cuts for a minimal fee. However, we do not have the equipment to provide long rips, or detailed cuts for a custom project.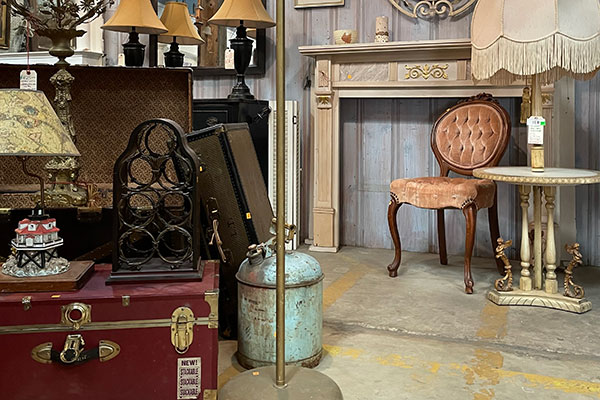 PREPARE FOR YOUR VISIT
If you are making a donation, or picking up a large bulky item, you must arrive at least a half hour before closing time. Although our checkout desk closes at 5pm,

 

our courtyard and loading bays close at 4:30 pm. We are strict about this policy for safety reasons, and it ensures that all Forklift Fans will have enough time to load or unload their vehicle and exit the courtyard by closing time.

Dress for the weather – our warehouse will be about the same temperature as it is outside. In the winter, this means hats, gloves, warm shoes, long johns, heavy coats, etc. We are close to a wetlands area, so in the summer and early fall, you'll want to wear bug spray.  You may get dusty while hunting for treasure, so don't dress your best! Shirts & shoes required.

This is a working warehouse. Keep a close watch on your children so that they do not dive off a loading dock or tip something heavy onto their siblings. Unattended children may be eaten by Purple Polka-dotted Trash Monsters.
Bring your specific measurements and a tape measure. Bring a sample if you are trying to match a specific color or style—remember, there are no returns on most items!
Friendly, well-behaved pets are welcome, and may attract head pats and belly rubs. They must be on a leash at all times.
Ask staff for help if you find something you will need a ladder to reach–otherwise it is a self-serve warehouse. You are welcome to use the shopping carts, dollies, hand trucks, and flat carts.
People who switch or remove price tags are shoplifters. Shoplifters will be prosecuted, banned from the store, or held upside-down over an old toilet. Likewise, folks who remove "Sold" stickers are mean people, and will suffer a sad fate someday.
We put a lot of time and research into setting prices, so we discourage haggling. However, if you feel there is a possible price error, please ask at the checkout, and you will be asked to wait patiently until a manager can investigate. If you still remain unhappy with the price, you may fill out a price review form so that our pricing team can research the item again.  You are also encouraged to keep an eye on our Facebook or Twitter feeds, where we announce frequent flash sales.
We do not accept American Express. We do accept cash, checks, Visa, Master Card, and Discover.  There will be a $15 fee for any returned checks.  There is a $200 limit on personal checks.