Deconstruction is like construction in reverse! It involves the careful dismantling of a building so that materials can be salvaged for reuse rather than dumped in a landfill. With deconstruction, up to 80% of a home, including structural lumber, framing and bricks, can be recovered in reusable condition.
BENEFITS
Choosing deconstruction over demolition has significant environmental, social, and economic benefits, including:
Conserving precious natural resources
Diverting usable materials from area landfills
Creating good, green jobs
Making building materials available at low or no cost to those in need
Helping to avoid costly dumping fees
Providing the donor with a significant tax deduction
In order to proceed with a deconstruction and donation, the first steps are to speak with your personal contractor/builder, a contractor that specializes in deconstruction, and with an independent third-party appraiser who is qualified to appraise the value of the materials to be donated. Because the tax deduction associated with a deconstruction can be substantial, you should consult with a tax professional before making a final decision.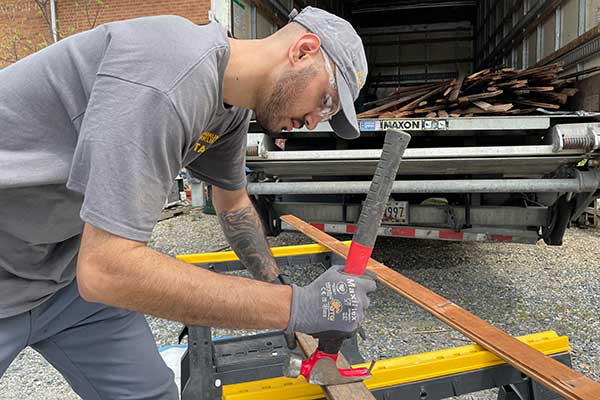 WE CAN HELP
Our Donations Team can provide a list of appraisers working in the DC area. If a full-scale deconstruction is not for you, we can also recommend other options.
For more information, contact the donations team at Donations@CommunityForklift.org or (301) 985-5180.