Exhibition runs from November 11 to January 4
On this day honoring our nation's veterans, we are so happy to announce the opening of Lifting US, an exhibition at Community Forklift featuring works of art created by military veterans and family members. Running from November 11 to January 4, the show features a variety of artwork — from wood carving and stained glass to ceramics and painting.
This exhibition was organized in partnership with the nonprofit Uniting US. This amazing organization is dedicated to supporting arts engagement activities for active duty military, veterans, their family members, and the communities in which they live. They provide art materials and supplies, mentoring, art exhibit bookings, facilitation of artwork purchases, and therapeutic art wellness activities.
---
The Lifting US art show is also online!
Check out some of the veteran artwork in our Community Forklift Marketplace!
---
Many of the pieces in the show use materials sourced from Community Forklift or our Community Building Blocks program. There are porcelain bowls created using salvaged glass lampshades as molds. Many of the pieces come complete with vintage frames. Surplus paint and salvaged wood flooring are also used throughout. Some of the ceramics were even fired in a kiln purchased second-hand from our warehouse in 2016!
Uniting US, the Lifting US exhibition, and the veteran artists all embody the healing power of art and the value of reuse. Thank you to all who have served our country and happy Veterans Day!
Visit the art show from November 11 to January 4 at Community Forklift's nonprofit reuse warehouse. The warehouse is open daily from 12 to 5 pm, though it is closed Thanksgiving Day, Christmas Day, and New Year's Day. You can also see the artwork online in the Community Forklift Marketplace.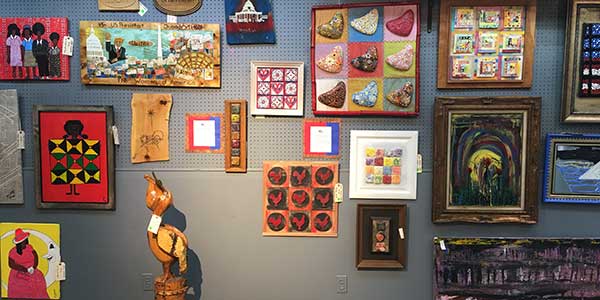 ***
Every time you donate or shop at Community Forklift, you're helping us lift up local communities through reuse. We turn the construction waste stream into a resource stream for communities in the DC region – by keeping perfectly good items out of the landfill, preserving historical materials, providing low-cost building supplies, and creating local green jobs.