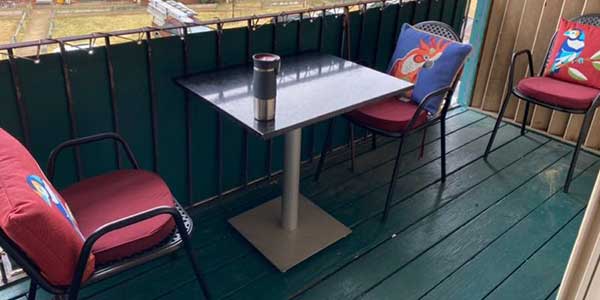 The Greater Washington, D.C., area welcomed more than 4,500 Afghan refugee allies after they were forced to flee their homes last year. One group of eight adults who resettled here in Prince George's County were met with a furnished apartment coordinated by resettlement agency Lutheran Social Services of the National Capital Area (LSSNCA).
LSSNCA tasked the Good Neighbors of Capitol Hill (GNCH) with the responsibility of setting up the home and gathering household supplies. Through LSSNCA's Good Neighbor Partner Program, GNCH furnished the apartment with the help of Community Forklift. Our Community Building Blocks program (CBB) provided free home essentials including a patio table and chairs, three rugs, and a dining table.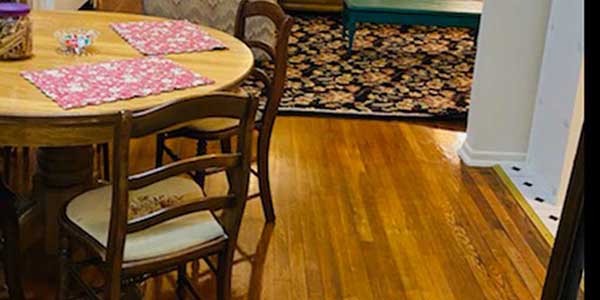 Since 2016, Community Forklift has supported LSSNCA and its partners by providing essential furniture pieces like tables, chairs, dressers, couches, and lamps to help furnish apartments for newly arrived refugees. LSSNCA is sometimes given less than a week's notice to furnish these apartments, so they rely on Good Neighbor Partners like GNCH to help furnish homes and mentor families as they transition to a new life in the U.S.
Community Forklift is honored to have partnered with LSSNCA for many years and we are proud of their work resettling refugee families. LSSNCA is a 501(c)3 nonprofit that offers a comprehensive range of services throughout the DMV. Services include housing support, financial and legal support, case management, mentoring, employment training, workforce development, immigration services, and more. Visit their website to learn more about their work.
***
Every time you donate or shop at Community Forklift, you're helping us lift up local communities through reuse. We turn the construction waste stream into a resource stream for communities in the DC region – by keeping perfectly good items out of the landfill, preserving historical materials, providing low-cost building supplies, and creating local green jobs.