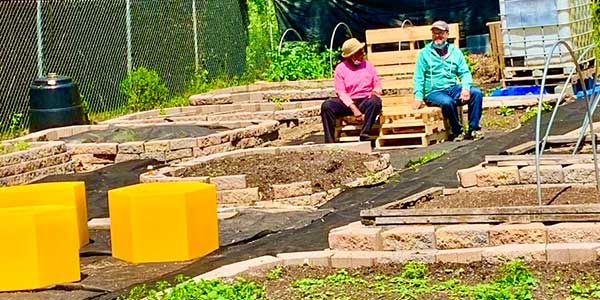 July 27, 2021
The town of Colmar Manor is a vibrant suburb of over 1,400 people situated between the Anacostia River and Bladensburg Road. Within the town lies the hidden gems of two community gardens managed by the Colmar Manor Garden Club, a group of gardeners with a mission to beautify the Town of Colmar Manor and share their knowledge of gardening.
Since 2017, Community Forklift's Community Building Blocks (CBB) Program has provided free materials to the Colmar Manor Garden Club for use in the gardens. Their most recent finds include modular honeycomb shelving units that are used as seating and a picnic table and patio furniture that they've painted with bright summer colors.
"The residents and visitors like our tables and honey shelves we made into sitting," says Doreatha from the Colmar Manor Garden Club. "The picnic table, honey shelves, and round table are talking pieces, and the painted beautiful colors and the yellow shelves have put more beauty into both gardens."
Other materials from Community Forklift have found their way into the gardens over the years: the club uses gardening tools found at the reuse warehouse and created a walkway into the garden using salvaged bricks. They have also built a bench using Community Forklift pallets and even found a cabinet at our warehouse to convert into a blessing box, which is stocked with free canned and dry goods for the community.
The Colmar Manor Garden Club received a Sustainable Maryland Certification and, for five years, both gardens were awarded Prince George's County Beautification Certificates. Community Forklift's CBB program provides free materials to nonprofit organizations for projects that benefit the community. Visit our website for more info and to apply!
***
Every time you donate or shop at Community Forklift, you're helping us lift up local communities through reuse. We turn the construction waste stream into a resource stream for communities in the DC region – by keeping perfectly good items out of the landfill, preserving historical materials, providing low-cost building supplies, and creating local green jobs.