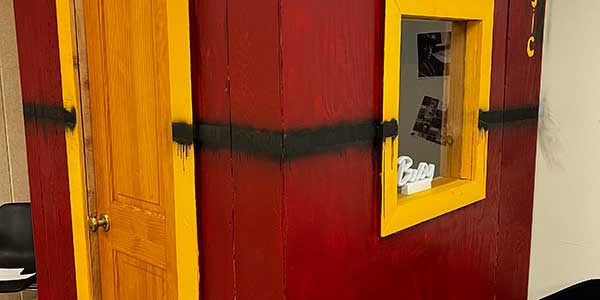 The students at IDEA Public Charter School prove that all you need is determination, imagination, and some donated materials. The enterprising scholars constructed a sound booth for the school's music room using materials provided by Community Forklift's Community Building Blocks (CBB) program!
Located in the Deanwood Community of Northeast Washington, D.C., IDEA Public Charter School is a high school that includes career and technical education programs in its curriculum. These specialized pathway programs offer courses in business management, child development, computer science, and construction technology. The students in the construction technology program gain carpentry skills through hands-on projects including building picnic tables, garden beds, little free libraries, and the aforementioned sound booth.
Construction Teacher Ian Milne wrote: "…my students built a small recording studio for the music room and you can see the carpet tiles and door you donated – just wanted to say thank you!"
The project taught valuable skills through incorporating sustainable and re-usable materials. Prior to the Covid-19 Pandemic, Ian and his students visited active construction sites and took field trips to Community Forklift to learn about reuse. In-person learning has resumed at the school and students are once again able to work on carpentry projects.
Since 2015, IDEA Public Charter School has received free building materials such as doors, windows, hardware, and tools for their educational programs. One project utilized these materials to build a small tool shed for their school garden.
Thank you to Ian and IDEA Public Charter School for instilling carpentry skills and an appreciation for reuse into future generations. Visit our website for more information about our CBB program, which distributes free materials to local nonprofits, schools, and community groups.
***
Every time you donate or shop at Community Forklift, you're helping us lift up local communities through reuse. We turn the construction waste stream into a resource stream for communities in the DC region – by keeping perfectly good items out of the landfill, preserving historical materials, providing low-cost building supplies, and creating local green jobs.