Families and volunteers at Carrollton Elementary School in New Carrolton, MD, redecorated the school's staff lounge with the help of some free materials from Community Forklift's reuse warehouse. Dulce Santos, Community School Coordinator at Carrollton Elementary, shared that the school was inspired "to create a warm, welcoming staff lounge to show hard-working school staff and teachers [that] they're valued and appreciated."
While some effects from the Covid-19 pandemic have started to fade, still in 2022 Dulce noticed that the pandemic continued to affect schools. "The pandemic has taken a toll on our students, but also our teachers," Dulce said. "Teachers have made adjustments to their curriculums, delivery of instruction, technology, while maintaining a safe and socially-distant classroom environment."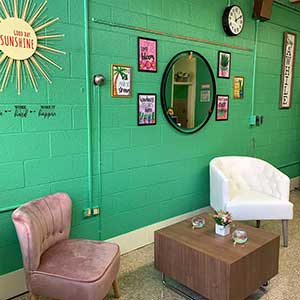 "Having families taking on this project … demonstrated the gratitude they have towards our school staff."

Dulce Santos, Community School Coordinator at Carrollton Elementary
According to Dulce, families and volunteers came together to show school staff and teachers appreciation by redecorating the lounge into a vibrant space where staff can relax and recharge. "Having families taking on this project … demonstrated the gratitude they have towards our school staff. Staff can enjoy a staff lounge that contributes [to] lower stress levels, helping to keep them healthy and engaged," she said.
Community Forklift provided a wall mirror and coffee table for the newly refurbished space. The items were distributed through our Community Building Blocks program, which provides free materials to nonprofits, schools, and community groups for projects that serve the greater community. If you know of an organization that could use free materials, please share our website with them! They can reach out with questions to Susana, our Community Giving Manager, at 301-985-5180 x 303.
***
Every time you donate or shop at Community Forklift, you're helping us lift up local communities through reuse. We turn the construction waste stream into a resource stream for communities in the DC region – by keeping perfectly good items out of the landfill, preserving historical materials, providing low-cost building supplies, and creating local green jobs.