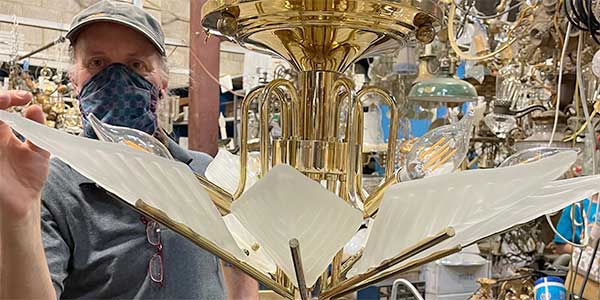 Did you know that in 2020, Community Forklift redistributed 3,819 light fixtures to the community? That's a lot of lights saved from the landfill — ceiling fans, sconces, lamps, chandeliers, flush-mount lights, outdoor lights, and more!
Andrew is responsible for sorting, assembling, cleaning, testing, and pricing the mountain of modern and vintage fixtures that get donated to our reuse warehouse. He started working at Community Forklift in September of 2017 and was thrilled to get a chance to work with salvaged materials.
"I've always been interested in reusing stuff," Andrew says. "It frustrates me to see what people will throw out. Working at Community Forklift, I get to help people reuse things instead of tossing them in the dumpster."
Outside of the reuse warehouse, Andrew also makes pottery. He has done a few demonstrations at past Community Forklift events and teaches classes at both Hinckley Pottery in Georgetown, DC, and Something Earthy in Laytonsville, MD.
To help you shop for new or vintage lighting at Community Forklift, Andrew has a few tips:
If you're installing lighting yourself, make sure you know what you're doing. Feel free to ask Andrew for advice on simple projects or hire a professional if you're unsure.
Read the hanging tags on the lighting to learn more about it. According to Andrew, "most of the lighting for sale in the warehouse is installation-ready. The tags will note if the fixture needs to be rewired."
Make sure to measure your space before coming to the reuse warehouse. Knowing your ceiling height and the diameter of the space where the lighting will go will help you find the perfect fixture.
Use your imagination when shopping for vintage lighting. "A lot of the high-quality older fixtures can be upcycled and reused if you want a different style," Andrew says. "Changing the bulb style, refinishing the metal, or adding crystals are just a few ways to give a new look to old lighting."
If you're looking to replace a part on a fixture you already own, make sure to bring the broken piece with you to the warehouse. Andrew says that "lighting parts are not always interchangeable. Have the piece you're trying to replace with you so you can find a match."
Make sure to subscribe to Community Forklift's blog and newsletter for information on discounts and other news. Lighting is 25% off through the end of July, so now's a great time to pick up a fixture!
***
Every time you donate or shop at Community Forklift, you're helping us lift up local communities through reuse. We turn the construction waste stream into a resource stream for communities in the DC region – by keeping perfectly good items out of the landfill, preserving historical materials, providing low-cost building supplies, and creating local green jobs.