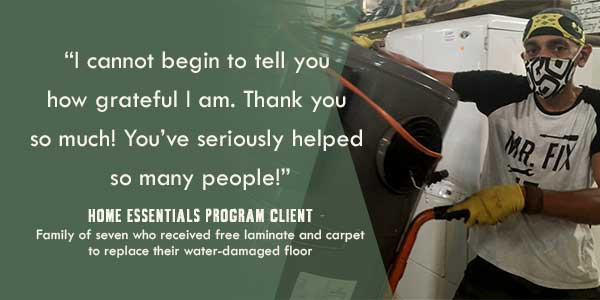 This year has been a challenging one and Community Forklift has been there as an essential business that serves the most vulnerable affected by the pandemic. Through the Home Essentials Program (HELP), we've distributed $46,499.71 in materials to 567 people in 189 households. This program provides free building materials, fixtures, appliances, and furniture to our neighbors in need.
One of these households, a family of 7, were forced to move out of their rental unit. Fortunately they were able to acquire a mobile home, though it had been vacant and left in poor condition. The home was in dire need of repairs due to a major leak that caused extensive damage to the subflooring. The family was able to fix the subflooring but didn't have enough money to complete the floor. Through Community Forklift's Home Essentials Program, they received vinyl flooring for the living room and dining area, and surplus carpet for children's bedrooms.
---
Home Essentials Program 2020 Figures at-a-glance
$46,499.71 in materials distributed
189 households received grants
567 people benefited
(As of December 8)
---
In addition to helping families obtain free home improvement supplies, Community Forklift also provides home appliances to families in need. We recently worked with Ms. W, a single mother of two living in public housing with a broken washing machine and no dryer. Community Forklift provided this family with these appliances after Ms. W put in a request in order to keep her family "safe and healthy with clean clothes to wear during COVID-19". Almost daily since she received them, Ms. W has been sending us positive messages to express her gratitude.
There is currently a nation-wide shortage in appliances due to the pandemic and that has affected Community Forklift's supply as well. Stories like Ms. W's are why appliance donations to Community Forklift are important now more than ever! If you have an appliance you could donate, visit our website for donation guidelines and information.
"I'm very grateful for your services, thank you again."

Ms. A, Home Essentials Program client who received a refrigerator
We also assisted Ms. A, a 62-year-old senior and Prince George's County resident who has been on dialysis and recently lost her husband. When her refrigerator broke, she had to use a cooler to keep her food fresh. Ms. A was very thankful when Community Forklift was able to provide her with a working refrigerator.
"I received the refrigerator and I'm so very grateful," Ms. A said. "The one that [Community Forklift] sent is working properly — it's freezing properly and the refrigerator portion is working properly so thank you again. I'm very grateful for your services, thank you again."
In a time when social distancing and staying home is so important, Community Forklift has helped ensure that these people's homes are a comfortable and safe place to stay. We look forward to helping more neighbors in the New Year and you can help us with that goal by making a tax-deductible donation to Community Forklift today. Thank you for your support!