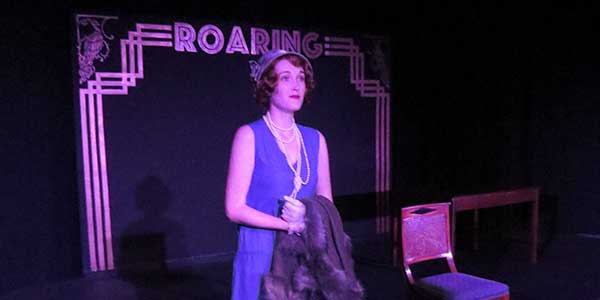 As they say on the stage, "The show must go on." The Best Medicine Rep, a local nonprofit theater company located in Gaithersburg, takes that message to heart even during the COVID-19 pandemic. Despite the challenges of putting on productions during the pandemic, they continue to do so, bringing the community together in laughter during a tough time.
For several years now, Best Medicine Rep has been a community partner and grant recipient of Community Forklift's Community Building Blocks (CBB) Program. With support from the CBB Program, Best Medicine Rep received free furniture pieces for its productions, including tables, chairs, doors, rugs, and a lamp. These items were used in shows such as Helen on Wheels, Comedy of Venice, and Roaring.
In this writer's humble opinion, however, the best Forklift find was a vintage fireplace mantel. Through their boundless creativity, Best Medicine Rep has repurposed this piece for multiple productions, including Engaging Shaw and The Crater Sisters' Christmas Special, repainting and reshaping it as needed. We are in awe of how they have brought all of our pieces to life on the stage.
"Large bits of scenery can be really costly. Our little non-profit theater is running on a small budget where we like to make sure all the professional theatrical actors, directors, and designers are paid fairly for their work. Community Forklift's grant has been invaluable in bringing our sets to life…The mantel brought a lovely English home to life, then gave a homey feel to the TV stage set for our original Christmas musical for two years running," said Rebecca A. Herron, Vice-President of Best Medicine Rep.
Because of the Covid-19 pandemic, Best Medicine Rep has not been able to invite audiences to its theater in Gaithersburg, but has been creating new productions that can be viewed online. The organization also partners with Montgomery County Public Schools to teach students playwriting. At the end of the school year, Best Medicine Rep professional actors perform a few of the plays in their Annual New Plays/New Voices Festival, which is a celebration of plays that the students and their families get to watch and enjoy. For the 4th Annual New Plays/New Voices Festival, plays were zoom-recorded and are available online.
The team at Best Medicine Rep is staying hopeful and looks forward to producing live performances in the future. "Once the Covid-19 restrictions are lifted and we can safely gather in theaters again, we have new plays at the ready and professionals eager to get back to live performance," Rebecca A. Herron, said.
We are so happy that our community partner has been able to continue its work and appreciate its continued partnership with schools!
Best Medicine Rep, Inc. is a 501(c)3 nonprofit professional theater company that develops and produces comedies. This organization offers full productions, classes for children and adults, and free readings of new plays. To learn more about this nonprofit, please visit www.bestmedicinerep.org.
***
Every time you donate or shop at Community Forklift, you're helping us lift up local communities through reuse. We turn the construction waste stream into a resource stream for communities in the DC region – by keeping perfectly good items out of the landfill, preserving historical materials, providing low-cost building supplies, and creating local green jobs.