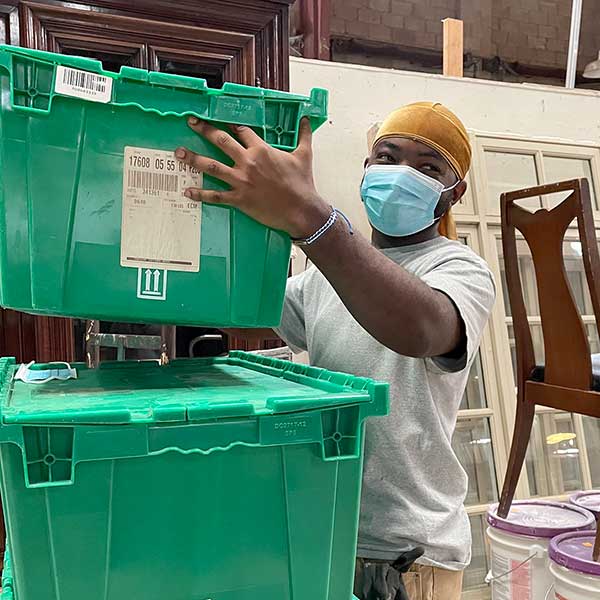 September 21, 2022
Thanks to our corporate and individual donors, Community Forklift can provide free and low-cost home essentials and building materials to the community while creating good green local jobs. By contributing materials to our reuse warehouse, donors not only provide for the community but also help conserve natural resources, reduce waste, and keep useable materials out of the landfill.
One of these generous and frequent donors is A Few Cool Hardware Stores, a group of 12 employee-owned and operated Ace Hardware locations in the D.C. and Baltimore metro areas.
"We love partnering with Community Forklift because we know the products we donate to their facility will have new life and meaning to someone who truly needs it," said Director of Marketing Courtney Belew. "In a rapidly changing world that relies too heavily on a disposable economy, it's refreshing to know organizations like Community Forklift exist to fight against convenience culture and celebrate the beauty and uniqueness of mismatched knobs, mistinted paint, and recycled goods."
A Few Cool Hardware Stores backs up this commitment to the environment with frequent donations to Community Forklift. Paint, hardware, hand tools, light bulbs, seasonal décor, and more, have all found their way to our reuse warehouse through donations from a number of their locations including their Glover Park, Adams Morgan, Logan Hardware, Old Town, Petworth, Tenleytown, and Frager's Hardware locations, to name a few.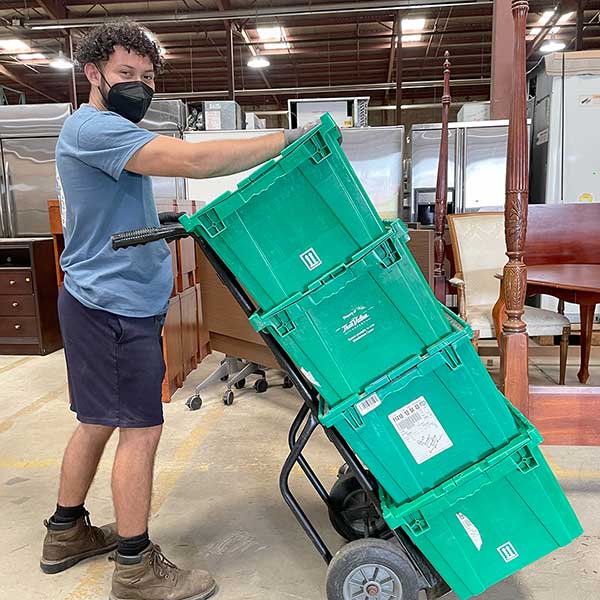 "We always love when we can help customers solve their DIY problems, but its' even more exciting when we can introduce them to Community Forklift," Courtney said. "We love when customers come back the next week or two with stories about the amazing finds they left with on their first visit. It's so important to keep our environment in mind when shopping. And, if you can't find it at Forklift, our 12 locations are here to help."
"Our unofficial tagline is 'We're more than just hardware, we're part of your community,' Courtney continued. "As a community anchor in many of the neighborhoods we serve, we know we would not be in business without the amazing customers who choose to shop and support our employee-owned businesses and understand the value of shopping local. We strive to be more than just a shop to purchase nuts and bolts by offering products and services representative of the communities we serve and customized to meet the needs of our customers."
A Few Cool Hardware Stores has also supported Community Forklift through fundraising, as well. More than once, they have chosen our non-profit as the beneficiary of their chocolate bar fundraiser. This past July they donated all the profits from the sale of their World's Finest chocolate bars at their 10 DC-area stores to our reuse warehouse.
In addition to the chocolate fundraiser, they also conduct round-up campaigns and supply local non-profits with in-kind donations. "We're proud to be a place where our neighbors can gain confidence to DIY and receive trusted advice and customer service," Courtney says. "We're so grateful for our customers, for our communities, and for the partnerships we've forged with those who share the same passion and mission to create vibrant, livable cities."
The donations from A Few Cool Hardware Stores go a long way in helping our community. The materials we receive are distributed for free to households with limited incomes through our Home Essentials Program, donated to other nonprofit groups for projects that benefit the community through our Community Building Blocks program, or sold at below-market prices to people who need them at our nonprofit reuse warehouse in Hyattsville, MD. Funds from the sale of these materials support our community giving programs, the operation of the reuse warehouse, and the 30+ local green jobs we create.
To learn more about donating materials or funds to Community Forklift, visit our website or contact our Donations Team at Donations@CommunityForklift.org or (301) 985-5180. Thank you for the support!
***
Every time you donate or shop at Community Forklift, you're helping us lift up local communities through reuse. We turn the construction waste stream into a resource stream for communities in the DC region – by keeping perfectly good items out of the landfill, preserving historical materials, providing low-cost building supplies, and creating local green jobs.