Note: we're starting a new blog feature called Vintage History! In each blog, Community Forklift pricing team member Chris will tell us about something in the reuse warehouse, with particular attention paid to its style, history, and function.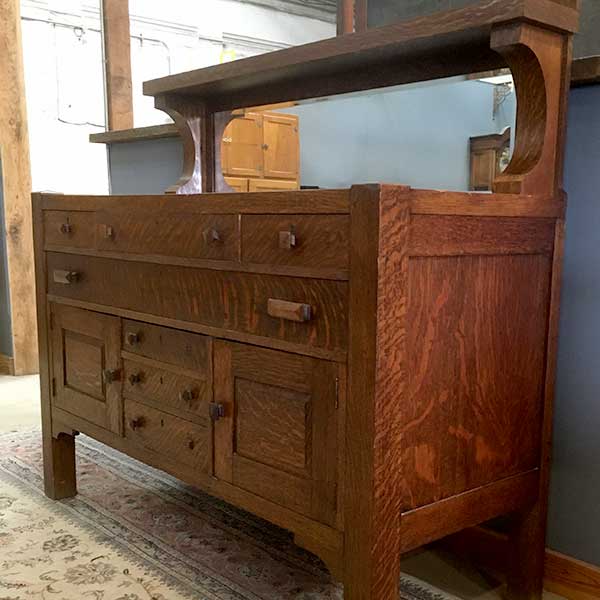 Today we're going to be discussing this awesome Mission style Arts and Crafts sideboard! Dating from the early 1900's, this piece features tiger oak veneer on solid oak construction, original wood knobs and unique wood pulls, a full-length beveled mirror with an open shelf, seven drawers, and two cabinets.
Mission style is a simple rectilinear furniture design style which originated in the United States and became popular in the early 1900's of the Arts and Crafts Movement. "The Arts and Crafts movement originated in Great Britain in response to industrial era mass manufacturing of objects," Chris says. "The movement was actually a socialist movement that sought to elevate the work of the craftsperson and the value of human labor that the craftsperson brings to a made object as opposed to machine-made products that sought to replace jobs through mass-production. The whole point was to value the skill and the time a person did to master a craft — in this case furniture making."
While valuing the contribution of the person who created the piece, the Arts and Crafts Movement also endeavored to make beautiful furniture in both form and function and make it available to all economic classes and especially the working class. According to Chris, "The simple and natural beauty of the materials used come alive via the handwork of the craftsperson in Arts and Crafts design with the intent to make homes, furniture, and decorative objects affordable to working class folks."
Common characteristics of the Mission style include:
right angles and long horizontal and vertical lines
legs extending upward through the piece as a column
wide flat wood panels
shallow, low-relief ornamentation
square, low relief pyramidal knobs
oak construction
According the Chris, one of the wonderful things about Arts and Crafts furniture is that "it displays the beauty of wood, the handcrafting of the furniture itself." This feature is especially noticeable in this Mission style sideboard with its tiger oak surfaces. Tiger oak has a beautiful striping pattern that is created by cutting the oak log in a special way at an angle called "quarter sawing" which creates a tiger stripe effect with the wood grain.
Another notable wooden feature of this piece are the knobs and pulls. While square pyramidal knobs are common to Mission style, the two elongated wooden handles on this sideboard are unique. "I have actually never seen these long carved handles open on both sides before," Chris says. "Most drawers have pulls or knobs often fashioned out of metal."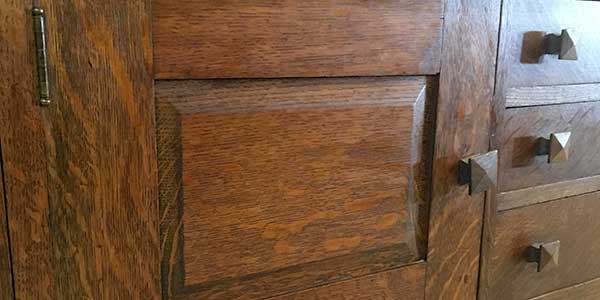 While two of the square knobs on this piece are missing, there are a number of things one could do to replace them:
find similar knobs from another piece of Mission style furniture
search for wooden knobs from online retailers that make replica replacements
replace them with coordinating metal Mission style knobs
take one of the intact knobs to a local woodworker and have two additional ones created
According to Chris, the Arts and Crafts Movement influenced furniture, but also "decorative objects, picture frames, art pottery, table settings, and textiles — all types of elements in a home — and the expansive shelf above the mirror would have afforded an open view unlike a closed display cabinet."
These decorative objects, like the Arts and Crafts furniture, moved away from the ornate decoration of most Victorian furnishings. "Art pottery was decorated in matte glazes that accentuated the connection with nature often with foliate designs and stylized landscapes," Chris says. And while the beveled mirror would make it possible to see all sides of these decorated objects displayed on this sideboard, the glass also served to add space, lightness, and a sense of expansiveness to sideboard top. "It lightens the furniture and adds to the simplicity of the piece."
There are some other specialized features of the sideboard, namely in the purpose of the drawers. The top center drawer is a silverware drawer. It has a floating insert on the top where you can easily double-stack your serving implements. The drawer also has its original velveteen lining, which is a very short pile velvet. One could use it as it is right now or have it replaced. One of the other drawers is "a very long drawer for table linens. So if a person had long tablecloths, they could be folded in such a way to minimize wrinkles," Chris says.
All-in-all it's a beautiful piece of furniture with quite a history. Pricing, dimensions, and more photos are available in the listing on the Community Forklift Marketplace. [EDIT: The sideboard has been sold.] You can also explore other unique and interesting items on the Marketplace, including this salvaged Arts and Crafts bookcase, which has a lot of the same features as this sideboard!
***
Every time you donate or shop at Community Forklift, you're helping us lift up local communities through reuse. We turn the construction waste stream into a resource stream for communities in the DC region – by keeping perfectly good items out of the landfill, preserving historical materials, providing low-cost building supplies, and creating local green jobs.