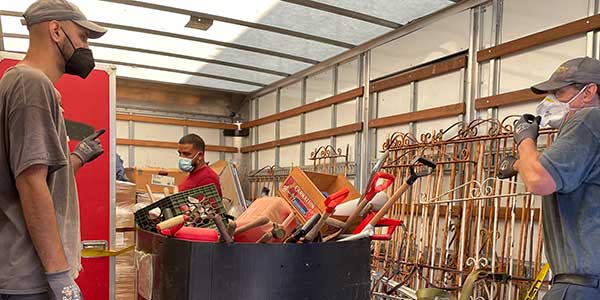 This past weekend we picked up some salvaged materials from our compatriots in reuse at Philly Reclaim, who are closing their doors at the end of this week. Props to Greg, their Executive Director, and their community for all the work they've done for reuse and deconstruction in the area. We're so sad that Philadelphia is losing this resource for affordable materials, sustainable reuse, and community development. More info from Philly Reclaim:
"It's true. We're closing down the Philly Reclaim warehouse, and we're not moving anywhere.
Our building is sold/being sold, and all the tenants in our warehouse complex are getting the boot. This would be the 4th time we've had to move our warehouse in what will be 8 years.
We're not opening up again elsewhere because we can't afford warehouse rent in Philadelphia anymore. You used to be able to find places for $3-5/SF. Now we're competing against self-storage facilities, warehouses being converted into apartments, and last mile distribution tech companies. The most affordable rents we're seeing now are in the range of $8-10/SF. That's a 2-3x increase, and that's on the low end.
And the truth is we were already in a financial crisis. There are a lot of reasons why. Among other things, we were blindsided this last year by a mistake that the IRS made, which cost us our ability to do deconstruction projects for at least half a year.
The current plan is to evolve as a business and focus on selling building materials directly from our deconstruction project work sites, but all those thoughts about our future have to wait until we get out of our current warehouse."
Our team at Community Forklift wishes the Philly Reclaim team the best of luck in their next steps, and thanks them for their years of service to communities in Philadelphia through reuse.
***
Every time you donate or shop at Community Forklift, you're helping us lift up local communities through reuse. We turn the construction waste stream into a resource stream for communities in the DC region – by keeping perfectly good items out of the landfill, preserving historical materials, providing low-cost building supplies, and creating local green jobs.