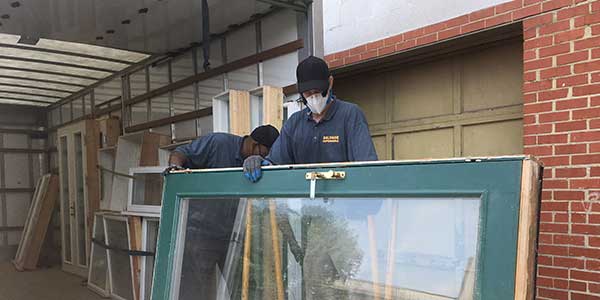 Why are there limits on Community Forklift's free donation pickup service?
Donated building materials are the cornerstone of Community Forklift and we very much appreciate all of the businesses and individuals who contribute items to our reuse warehouse. We couldn't exist without you!
Community Forklift offers a free limited donation pickup service to and from your home, business, or work site. However, donation requests are fulfilled on a case-by-case basis, and we'd like to explain why!
COST OF OPERATION
Our donation pickup service, while free to donors, is our biggest expense. Trucks, fuel, truck maintenance, and staffing end up being quite costly for our non-profit!
NUMBER OF VEHICLES
The Donations Team currently has only one vehicle in its fleet — a 26-foot box truck.
ENVIRONMENTAL IMPACT
Community Forklift is a green business and a part of the circular economy. Our pickup service is the most carbon-intensive activity at our non-profit and we work toward minimizing that footprint.
Because our donation pickup service is costly to operate, limited in size, and has a large carbon footprint, we reserve its use for deconstruction projects, large volumes of materials, or materials that are in high demand in the communities we serve. By limiting the service and carefully planning our pickup routes, we work to ensure that we can collect the most reusable materials with the least environmental and organizational impact.
If you have items that you'd like to donate and would like to know if we can pick them up, please fill out a donation pickup request form on our website. By donating, you can qualify for a tax deduction, reduce disposal costs, keep items out of the landfill, and support your community by giving a second life to reusable items. Feel free to reach out to the Donations Team at Donations@CommunityForklift.org or (301) 985-5180 with any questions! Thank you!
***
Every time you donate or shop at Community Forklift, you're helping us lift up local communities through reuse. We turn the construction waste stream into a resource stream for communities in the DC region – by keeping perfectly good items out of the landfill, preserving historical materials, providing low-cost building supplies, and creating local green jobs.