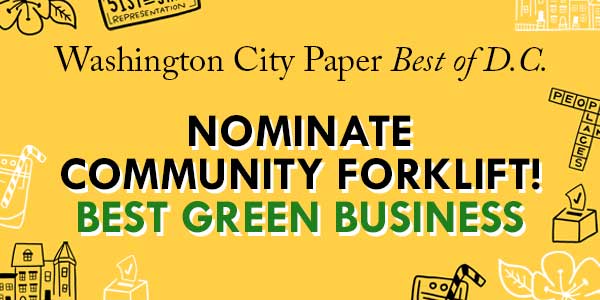 Nominations close August 1!
Your favorite local salvage warehouse needs your help defending our Best Green Business title in Washington City Paper's annual poll! You've named us Best Green Business every year since 2014 and we'd love it if you did so again!
This year's contest is a little different in that there are two phases: a nomination phase that ends August 1, and a voting phase that begins August 19. We need your help NOW in nominating Community Forklift as Best Green Business so that we can appear on the ballot August 19!
If you've already nominated us, thank you so much for the support!
---
Here's how you can nominate us for the Best Green Business category:
Select the GOODS category
Find "Best Green Business"
Type in "Community Forklift"
Enter your email address
Click "nominate"
Tell your friends and ask them to help nominate us too!
---
Besides bragging rights, why does this contest matter? We've been named Best Green Business every year since 2014 and winning earns us valuable free publicity! The more folks who discover us, shop here, and donate, the more money and resources stay embedded in the local economy, creating green jobs and supporting our community giving programs.
Visit washingtoncitypaper.com/best-of-dc-2021 today!
***
Every time you donate or shop at Community Forklift, you're helping us lift up local communities through reuse. We turn the construction waste stream into a resource stream for communities in the DC region – by keeping perfectly good items out of the landfill, preserving historical materials, providing low-cost building supplies, and creating local green jobs.