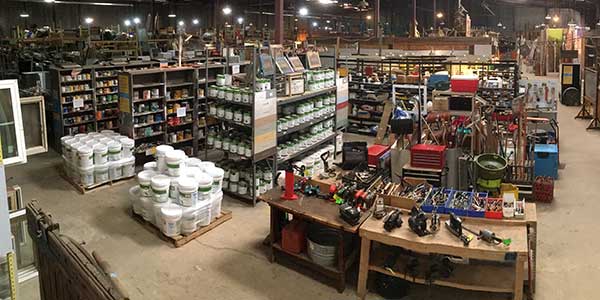 PLEASE NOTE: Applications for our Board of Directors are now closed. Thank you for your interest!
March 15, 2021
Community Forklift is seeking extraordinary people to join our Board of Directors to guide us into our next era of success and community empowerment. Community Forklift has been a leader in the green economy of the metro DC region since its founding in 2005.
Community Forklift is a nonprofit reuse center for home improvement supplies. We accept donations of surplus and salvaged building materials and make them available to the public at low cost, providing vintage materials for restoring old homes as well as standard building supplies for any project. Revenue from sales supports 84% of our operating expenses. We also distribute free supplies to local nonprofits and neighbors in need and promote reuse and sustainability through workshops, educational programming, and community events.
Since we opened our doors in 2005, Forklift has diverted over $45 million worth of materials from the waste stream and donated $500,000 worth of materials to families and local organizations in need. You can read more about our mission and successes here.
Members of the Board of Directors are responsible for overseeing Community Forklift's strategic direction, financial health, and the hiring and supervision of the Chief Executive Officer, among other duties. The Board consists of seven to fifteen members who serve up to two three-year terms. We hold quarterly Board meetings, along with occasional additional meetings for committees or special initiatives. Membership on the Board is uncompensated.
Current Board Members
Jane Solomon, Chair
Kate Barfield, Vice Chair
Peter Shapiro, Treasurer
David Harrington
Denise Hamler
Millie Knowlton
---
HOW TO APPLY:
Deadline to Apply: March 31, 2021. The board will review and interview applicants in April and May.
If you would like to help guide Community Forklift in our mission of keeping reusable materials out of the landfill and using them to transform and lift up our community, please submit a cover letter, resume/curriculum vitae, along with answers to the following questions to: NewBoard@CommunityForklift.org.
Why do you want to become a member of the Community Forklift Board?
What skills or experience do you have that would help us advance our mission? Examples include serving on another nonprofit or corporate board; managing contracts, finances or business operations; a background in strategic planning, legal counsel, or real estate.
We are dedicated to creating an organization centered on diversity, multiculturalism, and inclusion. What is your experience working with or being a member of a diverse and/or marginalized community?
What else should we know? Please feel free to tell us anything that will help us in reviewing your candidacy.
Thank you for considering investing your valuable time helping us. We look forward to hearing from interested candidates.
***
Every time you donate or shop at Community Forklift, you're helping us lift up local communities through reuse. We turn the construction waste stream into a resource stream for communities in the DC region – by keeping perfectly good items out of the landfill, preserving historical materials, providing low-cost building supplies, and creating local green jobs.