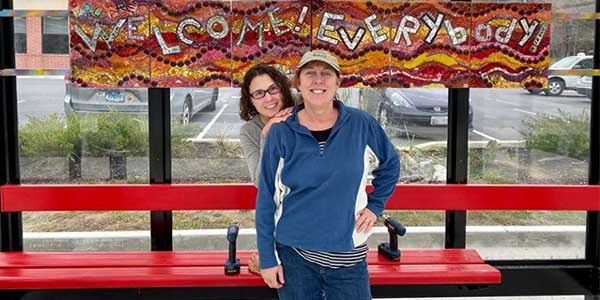 January 9, 2020
We have some great news about Community Building Blocks grant recipient Erin Cassell. Erin, owner of tie-dye studio Roll Up N Dye, started an initiative 2 years ago to raise awareness about the need for safe public transportation. She recently shared that her bus stop project was completed and featured in the Washington Post! Congrats, Erin!
"No one should have to walk or stand 3 feet away from trucks speeding by at 50 miles per hour." -Erin



The project got its start when Erin noticed that people waiting for the bus were exposed to bad weather conditions because most of the bus stops along Route 1 in Elkridge, MD, didn't have any sort of shelter. According to Erin, only three out of twenty-five stops were sheltered. And to add to her concern, she noticed that many of these bus stops were unsafe, inaccessible, and lacked proper street infrastructure, such as a sidewalk, to get to each stop.
Her observations led her to submit a video to the Changemaker Challenge, a contest focused on presenting innovative ideas for social change in Howard County. Erin was one of four contestants that won the competition in 2017 and received funding for their community project. In addition to the grant that Erin received from the challenge, she made great use of our Community Building Blocks (CBB) Program and received a large donation of red glass garden stones and stained glass pieces. Eileen Gillan, a mosaic artist that Erin hired to help with the project, came down to our warehouse to select the stained glass pieces. Materials were then used on a long mosaic panel that reads, "Welcome! Everybody!" Eileen also instructed students from Maryland International School in Elkridge who participated with the creation of the mosaic work that's seen on the Little Free Library that sits inside the bus shelter.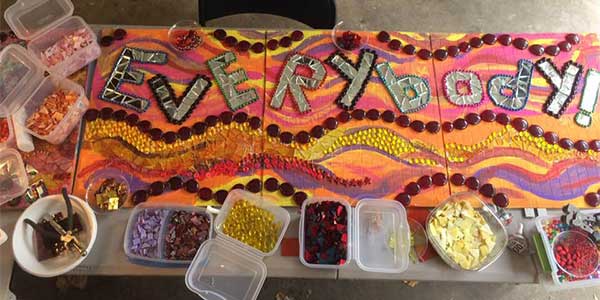 "Thank you soooo much for being supportive of this project. It is an honor to be partnered with Community Forklift!" – Erin
We are proud to have been able to support such a meaningful project through our CBB program. Visit the Washington Post article to learn more about the bus stop shelter and how it has begun to impact bus riders.