November 20, 2020
We at Community Forklift are so thankful for the support of our individual and corporate material donors. These generous businesses and people provide us with the materials that support our neighbors in need and stock our store to fund our mission.
Building materials supplier TW Perry has donated to Community Forklift multiple times since 2013. In their most recent donation, they generously provided us with high-end doors, windows, millwork, railings, decking columns, and stair parts.
According to Sean Parker, TW Perry Vice President Process, the construction and remodeling industry has been blessed with stronger demand than hoped for during the pandemic. However, COVID restrictions made it difficult to clear out obsolete, discontinued, and miss-ordered items that were sitting un-needed in TW Perry's Leesburg facility.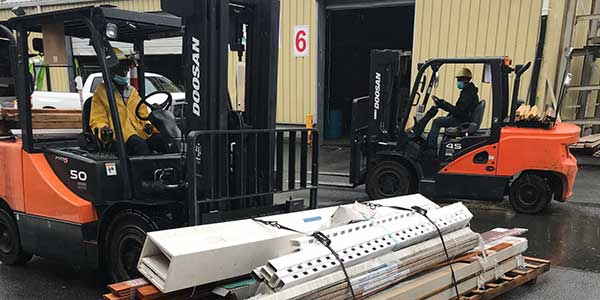 "Marvin Esquivel, our Gaithersburg Branch Receiving Manager, suggested I contact Tom Patzkowski, Director of Donations Community Forklift," Sean said. "Tom was quick to reply and immediately set up two pick-ups at our Leesburg Branch. They went so smoothly that three more trips followed, leading to a night and day difference in our operation as the team regained the room to operate efficiently. Tom's enthusiasm and graciousness made the whole process a very positive experience."
TW Perry is a quality building materials supplier that works throughout the DMV area. Founded in 1911, they have store locations in Baltimore, Maryland; Silver Spring, Maryland; Gaithersburg, Maryland; Leesburg, Virginia; and Springfield, Virginia. Recently they added a sixth retail store location when they purchased Peoples Supply Company here in Hyattsville, Maryland. Welcome to the neighborhood!
Our partnership with TW Perry supplies Community Forklift with the materials we need to accomplish our mission. Some donated materials go directly to neighbors in need through our Home Essentials Program. Some donated materials go to nonprofit groups for projects that benefit the community through our Community Building Blocks program. And some materials go to our nonprofit reuse warehouse, where they're sold at below-market prices to support these programs, the community, and the green jobs we create.
"The material going to a great cause was a win all around."

Sean Parker, TW Perry Vice President Process
Thank you to the TW Perry team for supporting Community Forklift and lifting up our community through reuse!
***
Every time you donate or shop at Community Forklift, you're helping us lift up local communities through reuse. We turn the construction waste stream into a resource stream for communities in the DC region – by keeping perfectly good items out of the landfill, preserving historical materials, providing low-cost building supplies, and creating local green jobs.