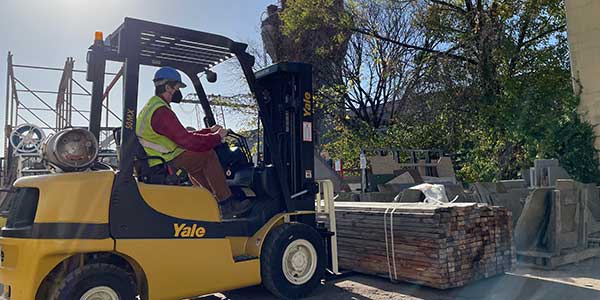 Community Forklift's reuse warehouse is just one part of the reuse equation. Our nonprofit depends on the generous material donors who support us by providing the new and gently-used items that flow in and out of our space every day. Without donated materials, we wouldn't be able to carry on our mission of diverting usable items from the landfill and providing them free or at low-cost to the community.
Tart Lumber is one of these businesses that supports reuse by donating to our nonprofit. This past fall we were thrilled to receive a donation of lumber, Trex decking, interior trim, and more. Previously they have also provided doors, windows, and cabinetry, often using their own trucks to bring large loads of materials to our warehouse.
"Thank you to Tart Lumber for being a fantastic supporter of our mission," Community Forklift Director of Donations Tom Patzkowski said. "The items they donate are in high-demand among those who shop at our reuse warehouse store and we are so pleased to be able to connect them with people who need their surplus materials."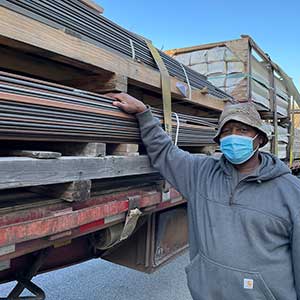 The company has been providing the DMV area with building materials since 1951, when Lynwood Tart began selling lumber in Arlington, VA. Now owned by Elizabeth Tart Fritsche and her husband, Craig Fritsche, Tart Lumber has expanded to include a full-service lumber and hardware store, a 9,000 sq. ft. design showroom, and a custom millshop all at one location in Sterling, VA.
By choosing to donate their overstock and other excess materials to Community Forklift, Tart Lumber reduces waste and conserves natural resources, while supporting the communities in which they operate by providing low-cost building materials to those who need them. Their materials also help support our community giving programs that provide free items to non-profits and households with limited resources.
Thank you to Tart Lumber for supporting Community Forklift and lifting up our community through reuse!
***
Every time you donate or shop at Community Forklift, you're helping us lift up local communities through reuse. We turn the construction waste stream into a resource stream for communities in the DC region – by keeping perfectly good items out of the landfill, preserving historical materials, providing low-cost building supplies, and creating local green jobs.