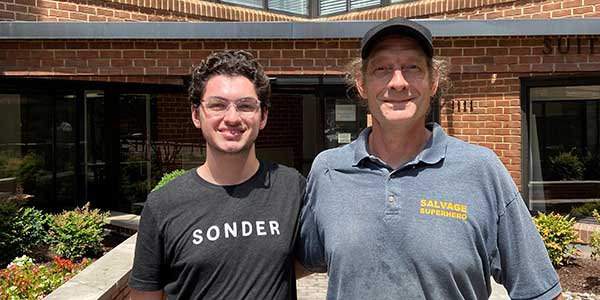 July 8, 2021
We are so thankful for all of the donors whose materials and funds support Community Forklift's mission to divert usable items from the landfill and provide them for free or at low-cost to the community. One of these generous material donors, Sonder, recently donated 34 refrigerators, 34 ranges, 25 dishwashers, and 25 microwaves!
Sonder, a high-end vacation and short-term living rental company, supports the communities where they do business by donating materials and funds to charities like ours and providing Sonder rooms to those in need, like healthcare workers, disaster relief organizations, and people seeking hospital care.
They also "strive to preserve the Earth's natural systems through a continuous drive towards sustainability." This includes establishing a waste minimization and mitigation strategy that includes donating usable materials to organizations like Community Forklift instead of sending those items to the landfill.
"We and the recipients of these critical home essentials are so grateful for Sonder's support!"

Community Forklift CEO Nancy J. Meyer
"Thank you to Sonder for their generous donation of appliances," Community Forklift CEO Nancy J. Meyer said. "The ranges and refrigerators are already at work making a difference in our community. We and the recipients of these critical home essentials are so grateful for Sonder's support!"
Some of the donated appliances have already gone to neighbors in need through our Home Essentials Program. Ms. J, a 79-year-old senior in Washington, DC, did not have a working refrigerator and received one of Sonder's free of cost.
"The fridge was a perfect fit and works fine," Ms. J's daughter said. "My mother is very happy with it. I totally appreciate all of your help!"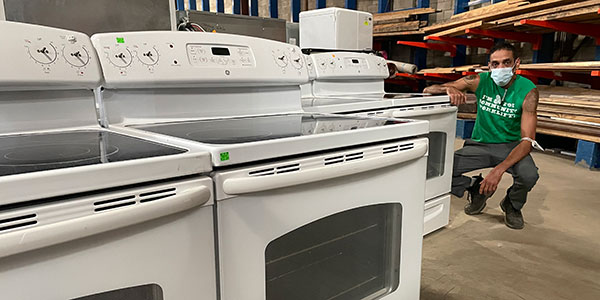 Another recipient of a free appliance is Ms. C, a 47-year-old Prince Georges County resident. After her refrigerator stopped working, Ms. C had to store food in a cooler but ran out of money to keep buying ice. Thanks to Sonder's donation of appliances, she was able to receive a free refrigerator through our Home Essentials Program.
"I just wanted to let you know that I got the refrigerator," Ms. C said. "I appreciate everything. Thanks so much!"
With the help of individual and corporate donors like Sonder, Community Forklift has recovered an estimated $45 million of building materials in the DC metro region since opening in 2015. In addition to being distributed for free through the Home Essentials Program, some donated materials also go to nonprofit groups for projects that benefit the community through our Community Building Blocks program.
Salvaged materials also stock the Community Forklift nonprofit reuse warehouse, in Hyattsville, MD. These items are sold at below-market prices to people in the area who need them. Funds from these sales support our community giving programs, the operation of the reuse warehouse, and the 30+ local green jobs we create.
***
Every time you donate or shop at Community Forklift, you're helping us lift up local communities through reuse. We turn the construction waste stream into a resource stream for communities in the DC region – by keeping perfectly good items out of the landfill, preserving historical materials, providing low-cost building supplies, and creating local green jobs.