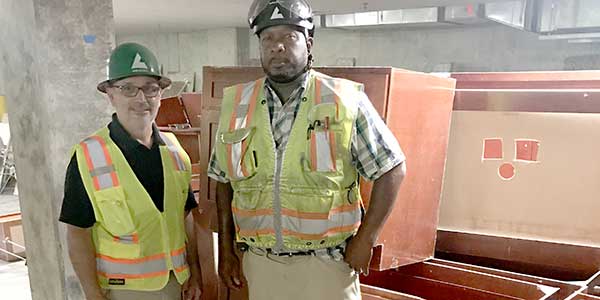 September 16, 2021
Donations of new and gently-used building materials and home essentials are the backbone of what we do here at Community Forklift. While our reuse warehouse serves as the hub for the redistribution of these materials, we wouldn't be here without the generous community members and businesses who donate them. One of these generous community donors is Bozzuto Construction, who recently donated cabinetry, refrigerators, ranges, and bathroom vanities.
"From environmentally-responsible practices to outreach initiatives, Bozzuto Construction partners with project owners and other team members to ensure our collective community and sustainability goals are met," said Mark Weisner, President of Bozzuto Construction Company. "In this case, ownership asked us to find charities accepting furniture donations. We are thankful to have found Community Forklift – a great organization who is taking and repurposing all cabinetry for a greater good."
Some of these materials from Bozzuto Construction are already making a difference in our community after being distributed by Community Forklift's Home Essentials Program. An 83-year-old senior with health conditions didn't have a way to store fresh food when her refrigerator stopped working. Her social worker and a neighbor helped her apply to our Home Essentials Program and we provided her with a free refrigerator from Bozzuto Construction.
"I spoke with Ms. M yesterday and she said everything was going well," her neighbor said. "I caught her as she was returning home from getting eggs and other produce to place in the fridge. If I may speak for her, she is grateful to you and your team at Community Forklift for assisting her in her time of need. You guys are true angels and God bless each and every one of you."
Bozzuto's charitable and philanthropic efforts are guided by a desire to make a difference in communities facing homelessness and housing challenges. They support youth development and social and environmental impact causes through their Rise by Bozzuto initiative and have raised money and donated materials for numerous local organizations. In 2020, Multi-Housing News recognized their efforts with its award for Best Corporate Social Responsibility Program.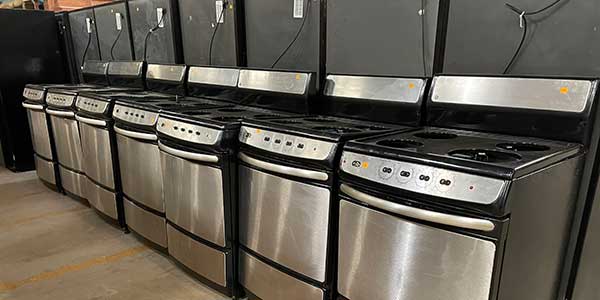 With the help of donors like Bozzuto Construction, Community Forklift has recovered an estimated $45 million of building materials in the DC metro region since opening in 2005. In addition to being distributed for free through the Home Essentials Program, some donated materials also go to nonprofit groups for projects that benefit the community through our Community Building Blocks program.
Salvaged materials also stock the Community Forklift nonprofit reuse warehouse, in Hyattsville, MD. These items are sold at below-market prices to people in the area who need them. Funds from these sales support our community giving programs, the operation of the reuse warehouse, and the 30+ local green jobs we create.
***
Every time you donate or shop at Community Forklift, you're helping us lift up local communities through reuse. We turn the construction waste stream into a resource stream for communities in the DC region – by keeping perfectly good items out of the landfill, preserving historical materials, providing low-cost building supplies, and creating local green jobs.