February 10, 2021
Donations of building materials and home essentials are integral to the work we do here at Community Forklift. These donations reduce waste and provide us with the means to directly provide free and low-cost materials to the community and also stock the reuse warehouse store that funds our mission. We are so thankful for the support of the individuals and businesses who provide us with these materials!
Tile company Architessa is one of these generous businesses that make our work possible. Formerly known as Architectural Ceramics, Architessa recently donated five truckloads of discontinued and surplus tile to Community Forklift!
"Architessa's generous donation of multiple truckloads of tile will go a long way in supporting our local community with low-cost home improvement supplies," Community Forklift CEO/COO Nancy J. Meyer said. "Thank you, Architessa, for your commitment to conserving natural resources by donating your surplus tile to our reuse warehouse instead of sending it to the landfill!"
Community Forklift uses donated materials in a number of ways. Some materials go directly to neighbors in need through our Home Essentials Program. Some materials go to nonprofit groups for projects that benefit the community through our Community Building Blocks program. And some materials go to our nonprofit reuse warehouse, where they're sold at below-market prices to support these programs, the community, and the green jobs we create.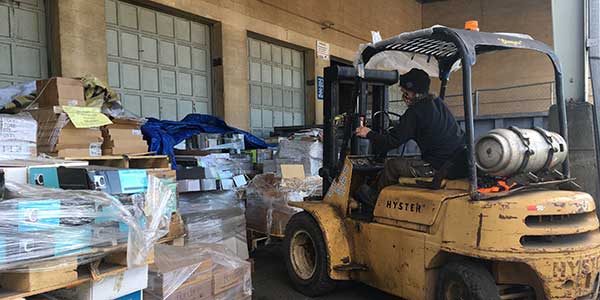 According to an Architessa representative, the company chose to make the donation because they believe in giving back to the community in any way they can and Community Forklift's mission aligns with their priorities of character, community, real results, and innovation in the architecture and design industry.
"It is our pleasure to donate to Community Forklift. Thank you for allowing us to help and be a part of your incredibly important work," Architessa CEO Betty Sullivan said.
"[Community Forklift Director of Donations] Tom was extremely responsive and appreciative of our help," said Architessa's Regional Warehouse Manager, Chuck Poole. "Tom often expressed how this would help the community, and this made our efforts worth it. I have nothing but positive things to say. It was a great experience."
Architessa has a history of lifting up the communities in which they work. Betty founded Washington Cares, a non-profit volunteer-based organization supported by donations and Architessa, in 2005 to provide disaster relief for Hurricane Katrina victims. Washington Cares donated clothing, first aid kits, food, water, blankets, and cleaning supplies and assisted over 400 dispersed people in finding new jobs and housing in the DC Metro Area during that relief effort. They continue to support communities in need with resources and seek opportunities to help in any way they can.
Thank you to the Architessa team for supporting Community Forklift and lifting up our community through reuse!
***
Every time you donate or shop at Community Forklift, you're helping us lift up local communities through reuse. We turn the construction waste stream into a resource stream for communities in the DC region – by keeping perfectly good items out of the landfill, preserving historical materials, providing low-cost building supplies, and creating local green jobs.