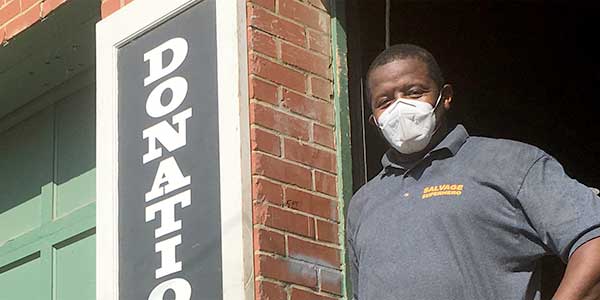 At Community Forklift, we gladly accept donations of appliances, kitchen cabinets, furniture, hardware, tools, and other home essentials. These generous donations are the cornerstone of our mission to provide free and low-cost materials to the community while diverting usable items from the landfill. Not all materials are accepted at the reuse warehouse, however, and we have a list of donation guidelines available online to help you understand what you can bring to our Donations Team.
It's important to remember that while your item's journey with you ends at Community Forklift, our goal is to prolong that item's usefulness by passing it on to another person in the community who needs it. Our reuse warehouse is the creative hub and means by which your used materials find a new home. So why are some materials accepted while others are not?
CONDITION
Generally, items must be in good condition and easily reusable in order to be passed on to a new owner. If something is really dirty or moldy, broken beyond repair, or inoperable or missing pieces, then it has limited potential for reuse. Before donating, ask yourself: "if I needed this item, would I buy it in this condition?"
REUSABILITY
Some items have limited reuse demand even when in good condition. When items are not in demand for reuse, they remain in our warehouse and take up space that could be devoted to materials that the community does need. For this reason, we don't accept exercise machines or commercial office furniture.
SAFETY
There are also some materials that can't be safely processed and stored at our reuse warehouse. Mattresses, bedding, baby items, medical equipment, and clothing do not fare well in our dusty warehouse full of building materials. Visit the reuse resources on our website to find a home for these materials!
We appreciate all of the support that we get from the community through material and financial donations. We couldn't exist without it! If you have any questions about items that we can accept, please contact our Donations Team at Donations@CommunityForklift.org or (301) 985-5180. Thank you for helping us lift up our community through reuse!
***
Every time you donate or shop at Community Forklift, you're helping us lift up local communities through reuse. We turn the construction waste stream into a resource stream for communities in the DC region – by keeping perfectly good items out of the landfill, preserving historical materials, providing low-cost building supplies, and creating local green jobs.