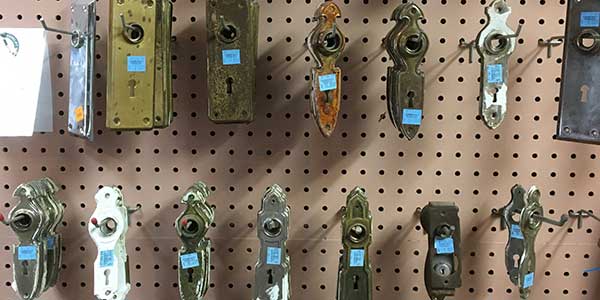 Is the hardware on your doors or windows encrusted in paint? There's an easy way to remove those layers covering your hinges, doorknobs, backplates, and escutcheons without using harsh chemicals! Plus, by repairing and refurbishing the hardware you currently have, you can keep good items out of the landfill, preserve historic material, conserve natural resources, and save money! What a deal.
Removing paint from old hardware
1) Fill an old crockpot with water. Only use cookware that you no longer plan to use for food. Check a thrift store if you don't already have one!
2) Place painted hardware in water.
3) "Cook" the hardware in the water for 4-8 hours. This is not a soup that you'd like to sample!
4) Remove hardware and peel. Paint will come off easily when soaked long enough. Isn't that satisfying? Look at all those layers coming away and revealing those beautiful designs.
5) Use a brush to remove any small remaining areas of paint
And that's it! Now you're ready to shine all of your hardware diamonds. If you need some antique hardware that is already paint-free or if you're looking for a match to some missing hardware in your home, Community Forklift can help! Check out the hardware section at our nonprofit reuse warehouse or peruse the gorgeous antique hardware listed in the Community Forklift Chairish store! Here are a few of the pieces listed:
***
Every time you donate or shop at Community Forklift, you're helping us lift up local communities through reuse. We turn the construction waste stream into a resource stream for communities in the DC region – by keeping perfectly good items out of the landfill, preserving historical materials, providing low-cost building supplies, and creating local green jobs.