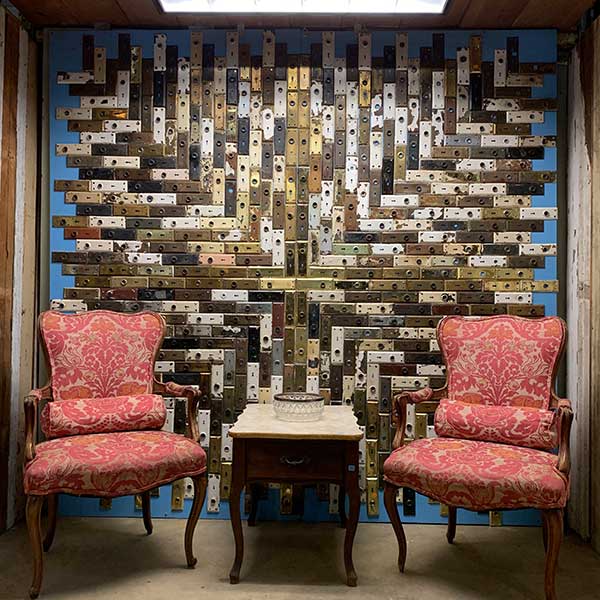 Have you noticed this creative update in the Community Forklift reuse warehouse? Our special projects coordinator assembled this amazing wall art in one of the displays at the front of the store! It's created out of plywood sheets and salvaged door backplates, the metal plate that goes behind the doorknob.
After painting some plywood using a blue from our selection of donated paints, our coordinator installed the plywood in the display as a base for her artwork. Then she found the center point of the plywood area and began attaching the backplates in a kind of herringbone pattern radiating out from there. I like how the variety of finishes on the backplates creates a really cool texture as they are distributed evenly across the wall!
This type of treatment would make an awesome accent wall in any room. Try it behind your sideboard in your dining area! Or how about behind your headboard in your bedroom? It also would be a great way to visually delineate areas in an open floor-plan home. The sky's the limit (though how cool would it be to do this on a ceiling?!).
If you're feeling inspired by this project, we have backplates of all sorts here at the reuse warehouse! Visit any day between 12 and 5 pm and see what materials we have available. Or, if you prefer ready-made wall art, this display wall is also for sale! Just ask for details at the front desk.
***
Every time you donate or shop at Community Forklift, you're helping us lift up local communities through reuse. We turn the construction waste stream into a resource stream for communities in the DC region – by keeping perfectly good items out of the landfill, preserving historical materials, providing low-cost building supplies, and creating local green jobs.