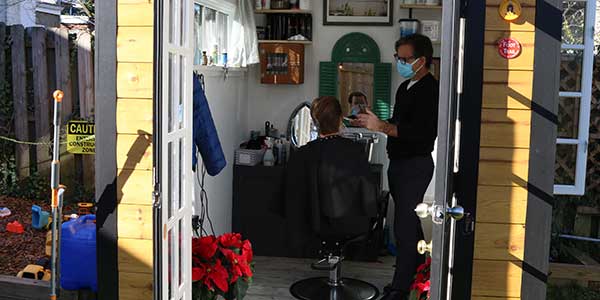 Community Forklift provides free and low-cost home improvement materials to the community by diverting usable items from the landfill and redistributing them to people who need them. Small local businesses are integral parts of our communities and can also benefit from the salvaged items in our nonprofit reuse warehouse.
Small businesses have had to adapt a lot this year in response to the pandemic. Stylist Felipe Rettig cuts hair at his home in the Mount Pleasant neighborhood of Washington, DC. During the summer months he uses his porch, but to accommodate clients during the winter he decided to build a heated shed in his backyard!
"I've built a lot of my house with [Community Forklift] salvage," Felipe wrote in an email. When he embarked on this project for his business, salvaged items from our reuse warehouse also played a part in its construction as well. The shed now allows Felipe to cut customers' hair in a well-ventilated but comfortable space outside his home.
Check out Open-Air Hair Care online for Felipe's business location and hours and to make an appointment. You can also read more about the construction of his new shed at Washingtonian.com.
If you know of any small businesses that might need low-cost building materials, please let them know about our nonprofit reuse warehouse, open every day from 12 to 5 pm! Non-profit organizations can also apply for grants of free materials for community projects through our Community Building Blocks Program.
For more stories of small businesses using Community Forklift Materials, check out this blog post on the opening of the La Coop Coffeehouse and our Instagram post on Franklins Brewery's dining room partitions!
***
Every time you donate or shop at Community Forklift, you're helping us lift up local communities through reuse. We turn the construction waste stream into a resource stream for communities in the DC region – by keeping perfectly good items out of the landfill, preserving historical materials, providing low-cost building supplies, and creating local green jobs.