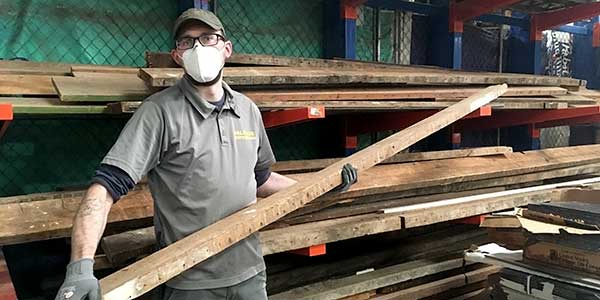 Maybe everything seems a bit slower during this Pandemic. Without as many places to go, things to do and folks to see, there is more time to invest in the activities of daily life. We've been seeing that impact here at Community Forklift with more folks working on house projects. But promoting slowness actually has its origins much earlier in time.
 The "Slow Movement" started years ago with "Slow Food," the resistance to fast food and the industrialization of food production. Its focus was to raise awareness of the relationship between food and the environment, the workers who produce food, the connection between the plate and the planet, and the loss of the health and enjoyment that "real" food provides. The movement also recognized the loss of personal connection that happens through preparing and sharing healthy meals with family and friends.
 Today there are also slow architecture, slow building, slow space, and all sorts of "slow" applied to design and construction. The process of deconstructing a building, for example, is a facet of slow building. Community Forklift helps recirculate materials taken out of deconstructed buildings by making them available for use in others. This contributes to decreased demand for materials extracted from the earth like lumber, metals, and oil. It also provides a wealth of existing materials and resources to improve existing buildings.
Community Forklift strongly supports the ethos of "slow building" that centers on environmental sustainability, affordability, quality, durability, and health. The relationship between local community needs, the natural environment, and the built environment is paramount. Resisting industrialization of building products and processes, the slow movement encourages size-appropriate spaces, creative use of old materials, appreciation of the human labor involved in making space, and the joy in sharing those spaces with others.
Come visist our reuse warehouse and join us as we continue to lift our community through making slow the new fast!
***
Every time you donate or shop at Community Forklift, you're helping us lift up local communities through reuse. We turn the construction waste stream into a resource stream for communities in the DC region – by keeping perfectly good items out of the landfill, preserving historical materials, providing low-cost building supplies, and creating local green jobs.