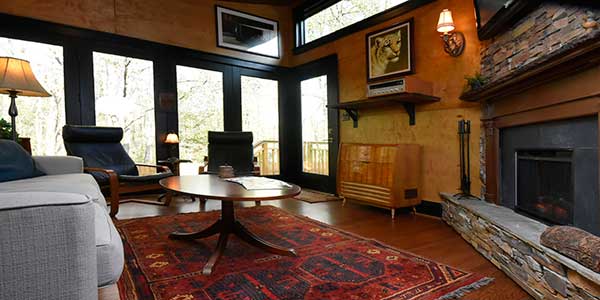 What does a contractor do when the beginning of the pandemic stalls business? If you're Phil Johnson of P.L. Johnson Construction, Inc, you go to work on your own home!
Working every weekend and some week days too, this sunroom addition took just over a year to complete. Since Phil is a frequent shopper at Community Forklift, it's natural that reused materials would find their way into his construction project. "I'm always going to Community Forklift … to find those rare items or vintage items that I could use in my home," he said.
The fireplace mantel, wood mantel shelf, four full-light windows, the side window over the couch, a door that he uses as a window, and an end table all came from Community Forklift. Those window and door elements in the room look like a matched set with their new black paint job. "All of the doors, windows, and interior trim are painted on the inside with [two coats of] black satin Rust-Oleum paint," Phil said.
The wood soffits, clerestory window, couch, chair, coffee table, lamps, wall sconces, and fireplace stone step are also all secondhand. The record player by the fireplace is a vintage 1958 Grundig Majestic record player that Phil found on Facebook Marketplace. "It works," he said. "It needs a new cartridge for the record player, but I won't be playing records on it. […] I just purchased a vintage turntable for my top shelf."
By using salvaged materials to build and furnish his living room addition, Phil has diverted all of these usable materials from the landfill. Did you know that building materials make up approximately 30% to 40% of our nation's solid waste stream? That's a lot of waste!
Community Forklift is turning this waste stream into a resource stream for the DC metro region by accepting donations of new and gently-used building materials and home essentials at our reuse warehouse. Since 2005, we have recovered an estimated $45 million of building materials in the area, and redistributed it to homeowners, small businesses, nonprofits, artisans, and historic restoration projects.
Thanks to Phil Johnson for being a part of this reuse economy and supporting Community Forklift and other reuse nonprofits!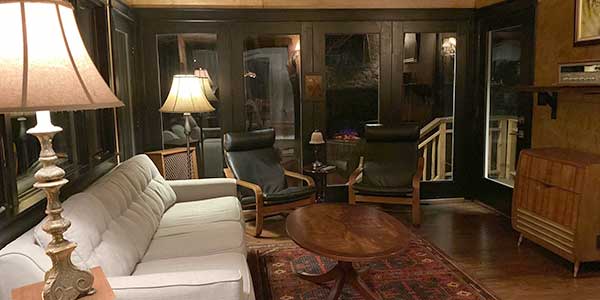 ***
Every time you donate or shop at Community Forklift, you're helping us lift up local communities through reuse. We turn the construction waste stream into a resource stream for communities in the DC region – by keeping perfectly good items out of the landfill, preserving historical materials, providing low-cost building supplies, and creating local green jobs.